Kenai Peninsula Cabin
- on Kenai River near Sterling, Alaska

New Fully Furnished Cabin available for longer term lease

Available October 15th. This fully furnished new cabin has 2 bedrooms and 1 baths with Kenai River access. Hickory cabinets, stainless steel appliances, and granite countertops. Nine (9) month lease at $1500/mo. For more pictures of the "Bear's Den" cabin >> click here.

Call or email for details.
Tel: (907) 248-5662
Email: info@alaskaoutdoors.com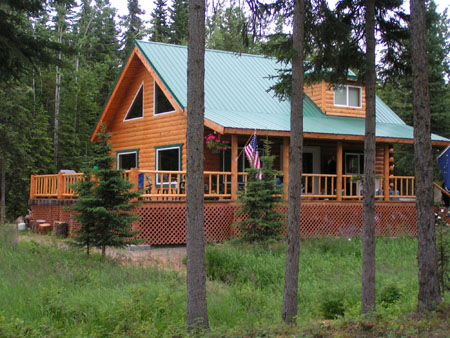 Riverfront deluxe log cabins for rent by the day or week with all amenities
and excellant bank fishing with over 350 foot of frontage on the Kenai River.
Visit the Kenai River Cabins at Sterling, Alaska

Alaska Fishing Cabin For Rent

This upscale cabin with river frontage has 2 bedrooms and 1 bath on the Kenai River. Cabin sleeps up to 5. Lodging includes exclusive shore fishing for Alaska salmon and trophy rainbow trout. Rental by the day or week between June 1st and October 1st.

See our website at www.KenaiRentalCabins.com .

Contact 907-242-7245 or email info@alaskaoutdoors.com for more information.

Alaska Homesteads is an Alaska Real Estate For Rent or Sale Directory, and it includes links to Alaska realtors, real estate brokers, and their listings of homes, cabins, land and remote properties for sale as well as links to property managers offering rentals. Also included are "for rent by owner" rental listings of apartments, cabins and homes in Anchorage, Soldotna, Wasilla, Mat Su Valley, Fairbanks, Juneau, Kenai, Homer and other areas of Alaska.
.
------------

Superior Products Inc.
Provider of log cabin kits for Alaska. Custom designed log cabins or cabin kit packages.